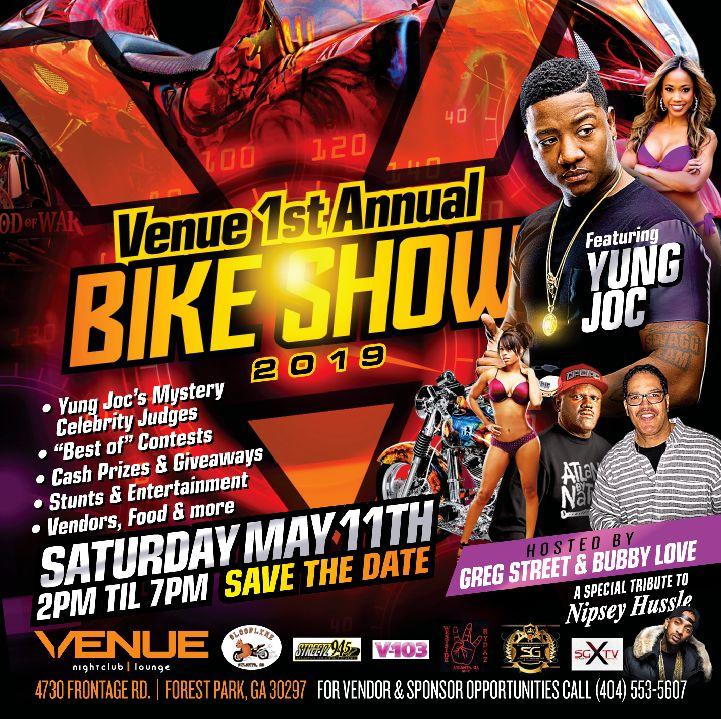 May 11th, 2019 we kicked off the 1st annual Bike Show at the Venue. According to the Weather Channel the day prior, it was said to be 100% chance of rain. Los, who was the head promoter of the event and spoke person for Blood Line Riders assured the team the weather will clear up in time for the bike show. It was shaky, but we followed Los' lead and just as he stated the weather cleared up right on time for the Bike Show to start.
In attendance was our inhouse radio D.J. King D, Daze, Rock, a few models, our in-house photographer Phew, and even Daze's pops Shannon came down from New York to enjoy the festivities. The event was hosted by Yung Joc, Lil scrappy from Love and Hip Hop: Atlanta plus Greg Street and Bubby Love of V-103. The event featured 100's of customized bikes and lots of women. The event started off a little slow due to the weather scare but gradually picked up once the sun showed who was superior. Fun in the sun in the presence some of the most exotic bikes Atlanta's ever seen. Vendors showcased their products while some provided food and other entertainment to keep viewers and bystanders' eyes balls occupied. Venue is known for its beautiful woman on staff, and some of the woman took the time to step outside to serve the guest Hookah. The event got better and better as the day went on. Keep on reading and I'll show you what I mean.
As I said, the night got better and better the later it got. The alcohol started to kick in and more bikes began to pull up. Even though it was a bike show you would think it was a concert from all the celebrities that pulled up along with the latest music being played by the DJ duo. It was a great night over all. Just to think if we had listened to the weather channel none of this would have taken place. At the end of the event Yung Joc presented awards with some cash the best bikes based on categories while telling a few jokes here and there giving the crowd a reason to wait on his every word till the next bike is presented. I'll let the rest of the photos tell you the rest of the story. One thing I'll say is damn, Los put on one hell of a show. Can't wait to the next one. Peace.